THE PRIZE "AQUILA D'ORO" ("GOLDEN EAGLE") 2016 TO NANCY PELOSI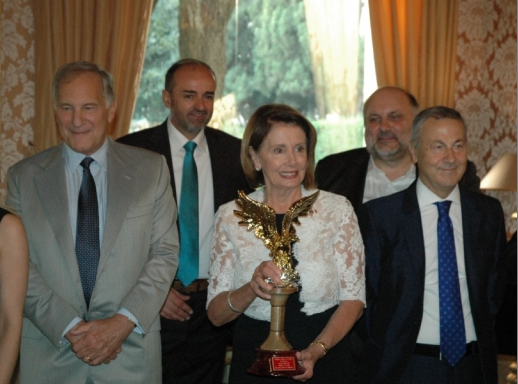 The ex "speaker" (President) of the U.S. House of Representatives, Nancy Pelosi, has received one of the three awards "Aquila d'oro" ("Golden Eagle") in 2016, arrived at the 11th edition. The other two ones went to RAI journalist of L'Aquila Aurelio Capaldi and to the ambassador and ex Foreign Minister Giulio Terzi from Sant'Agata. Ms Pelosi has Abruzzo-Ligurian origins: his paternal grandfather, Tommaso Fedele D'Alessandro, emigrated to the U.S. from Montenerodomo (Chieti), while the grandmother Maria Petronilla Foppiani was from Rovegno (Genoa). Pelosi received the award in Rome in the U.S. Ambassador John Phillips's residence.
The motivation for Ms Pelosi was as it follows: "For having dedicated his long political career to the common good, in particular for having helped with refined sensibility and lucid intelligence to strengthen civil rights in the U.S. and human rights in the international arena, thanks to an innate sense of solidarity that has elevated, for the first time in history, a woman at the highest institutional benches of America ". Ms Pelosi, happy for the prize, said: "I am particularly honored to receive the Award which I will show with pride in the U.S.A. I'm happy of the ties with Abruzzo of my dear grandfather who emigrated from this region, he was always proud of his origins from Abruzzo even if he was living in Baltimore, this is very important for me, for my family and for my electorate".